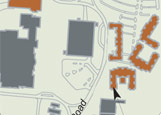 View the Current UGAREF Project Map
(256kb/pdf)
About UGAREF
Mission Statement and Activities
The UGA Real Estate Foundation, Inc. ("UGAREF"), a Georgia non-profit corporation, was created in 1999 to administer assets for the long term enhancement of the University of Georgia ("UGA") and the University of Georgia Research Foundation (the "Research Foundation") ; to provide volunteer leadership to UGA in its development and fundraising activities; and to provide broad advice, consultation, and support to the President of UGA and the Research Foundation.
UGAREF's activities include the following:
Acquisition of real property
Ownership of real property
Construction and development of real property
Management of real property
Corporate Structure
UGAREF is the parent entity of numerous limited liability company (LLC) affiliates which own and operate various real estate assets. UGAREF's total assets (as of 6/30/2016) exceed $329 million and its FY2017 revenues are projected to exceed $29 million.
UGAREF's Impact on the University of Georgia
UGAREF works in concert with its partners at UGA to provide comprehensive real estate solutions that meet the needs of UGA end users in a timely and cost effective manner. Since its founding in 1999, UGAREF and its LLC affiliates have:
Purchased approximately 80 acres of contiguous land
Constructed 2112 new housing beds
Constructed over 3,000 new parking spaces
Constructed approximately 270,000 square feet of new research space
Leased approximately 95,000 square feet of new academic space in Buckhead (One Live Oak) and Gwinnett County (Intellicenter)