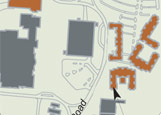 View the Current UGAREF Project Map
(256kb/pdf)
The School of Social Work
Photo Gallery of this Project

Location
Location: 279 Williams Street

Description
The O'Malley's Building is an 1800s era mill that has accommodated various uses over the past two centuries. UGAREF O'Malley's Building, LLC purchased the building in 2008 and renovated it to meet the needs of the MCG/UGA Medical Partnership GRU/UGA Medical Partnership when it was formed. The Medical Partnership has now relocated to the campus of the former Navy Supply Corps School on Prince Avenue which was purchased by UGA and renovated into the new Health Science Campus.

The Graduate School occupied the building from 2013 through 2014.

The School of Social Work currently occupies the majority of the building.