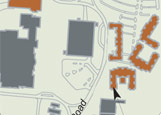 View the Current UGAREF Project Map
(256kb/pdf)
Carlton Street Parking Deck
Photo Gallery of this Project

Location
Location: 125 Smith Street

Description
The Carlton Street Parking Deck was constructed to allow the subsequent development of the Paul D. Coverdell Center for Biomedical and Health Sciences on the site of a former surface parking lot.

Although completed five years prior to the Coverdell Center, the parking deck was designed to complement the design of the Center. This approach reflects the long-term vision of UGA senior administration regarding a cohesive, integrated master plan.

UGAREF sold this property to UGA in May 2014.