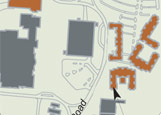 View the Current UGAREF Project Map
(256kb/pdf)
East Campus Village
Photo Gallery of this Project

Location
Location: 355-385 River Road

Description
East Campus Village was the first new campus housing constructed on the UGA campus in over 30 years.

The four apartment-style residence halls include over 1,200 student beds. This housing is within walking distance of the Joe Frank Harris Commons, East Village Parking Deck, Ramsey Student Center for Physical Activities, and the University Health Center.

One of the residence halls is named in honor of John W. Rooker, and UGA has transferred the name Robert L. McWhorter Hall to another of the residential halls. A third residence hall is named in honor of Ernest Vandiver, former Governor of Georgia.